Straddling southeastern Arlington County and northeastern Alexandria with a population of 6,270, Potomac Yard is a neighborhood in Northern Virginia, which takes its name from what was once one of the busiest rail yards on the Eastern Seaboard of the United States. Living in Potomac Yard has a little something for everyone.
Potomac Yard, originally developed by national builder Pulte Homes, is an area that is quickly developing and growing economically as part of the National Landing area for Amazon's HQ2. In 2018, Amazon.com, Inc. announced plans to locate part of its "HQ2" second headquarters project in the re-branded neighborhood of National Landing, which would include Potomac Yard.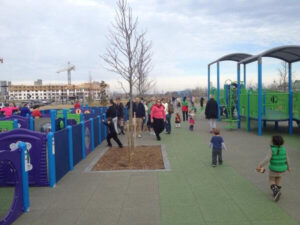 Potomac Yard is full of new development and newly built homes. From townhomes to condos and apartments – it has something for everyone. The area is also family oriented with a lot to do. Potomac Yard has a lot of restaurants, coffee shops, and parks. One of the biggest parks is Potomac Yard Park, which opened in 2013 and contains a water fountain, playgrounds, and sports fields within 24 acres.
Located south of the main shopping district, it is metro accessible and borders the Virginia Railway Express commuter rail. With an impeccable location, innovative developments, and great entertainment – Potomac Yard just might be a place you'd like to call home.
Please contact me today if you would like to learn more or discover current homes available in Potomac Yard. I would love to assist in your search!